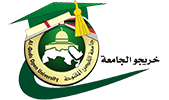 Dear Graduate !
This Alumni Portal offers many services to graduates. To make use of the services, just type in your username and password, These services include:
Services of the Alumni Follow-up Department, including access to and use of the electronic guide to institutions, courses available to graduates, opportunities for training and employment, and selected output from the training unit on how to prepare a curriculum vitae, etc.
Electronic services, including the electronic alumni guide, e-library services, discussion groups, graduates' yearbook and the alumni magazine.
Higher studies opportunities and information, including a notice board of higher studies scholarships in Palestine, Arab countries and abroad.
Studies, reports and articles related to the labor market, unemployment and how to select an appropriate specialization.