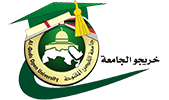 Philosophy of the Alumni Follow-up Department
In line with our ethos of caring for students, the University monitors its students from the point of admittance, becoming attuned to the student's needs during their period of study at the University and preparing them for engagement in practical activities. The University also assists students to assume a leading role in society and contribute towards enhancing the local community. The vision of the Alumni Follow-up Department is based on meeting the needs of graduates and guiding them towards training and work in local and Arab institutions. The University administration took the decision to establish the Alumni Follow-up Department dedicated to graduates to raise awareness of opportunities for training or engaging in the labor market. This assistance is based on coordination with the relevant institutions and ministries, thereby reducing unemployment rates faced by graduates.

In establishing this department, al-Quds Open University has followed in the footsteps of leading international universities in caring for graduates.